What is a QR code? Everything you need to know is here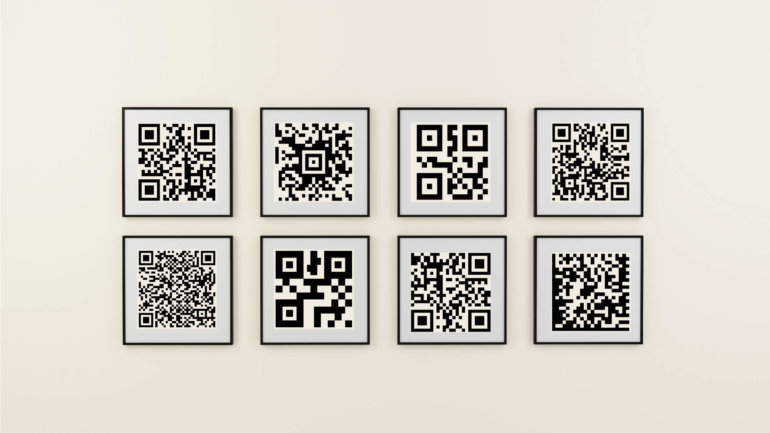 In this post, we will talk about what is a QR code, what are its characteristics, how they work and how you can create your own.
Sounds interesting?
Keep reading; there is so much to learn about QR codes!
What is a QR code?
QR codes or quick response code allows access to specific information in an agile and straightforward way. In this post, we will talk about what is a QR code, what are its characteristics, how they work and how you can create your own.
QR codes (also called "Quick Response") are two-dimensional barcodes, which were developed by the Japanese company Denso Wave, in 1994.
Regarding the data they can handle, you will be interested to know that they can contain up to 4,200 alphanumeric characters, that is, letters, numbers and characters.
Information to use in QR codes
Promotions and discounts
You can insert a link that directs the user to a discount coupon to use it in the purchase of a specific product, or in any of your products. Another option is to attach a PDF or image into your QR code, in the uQR.me QR code generator you can find this option under "attach file".
Click in this link to find some great examples to use QR codes with promotions and discounts.
Videos
You can share YouTube videos to explain the use of a product or provide useful content.
Downloads
The download of applications or PDF files is another alternative that will allow you to retain customers, such as offering a manual to eat healthier.
Contact information
You can also add data such as the location of your business in google maps, telephone, email, web page, social networks, etc.
WIFI access
One of the most outstanding features for its use is to include the access password to the wifi network of your business so that customers can use the laptop or smartphone while they consume at your establishment.
Where to use QR codes?
QR codes can be used in any marketing campaign that is carried out in a company, but like any strategy, QR codes should be used with a specific objective.
Here are some suggestions where you can apply them, and thus, get the attention of consumers and prospective clients.
Commercial premises
In the case of physical businesses, you can place a QR code in the shop window or doorway for potential customers to access your social media channels.
Events
Another option is to place a QR code in the presentation of a conference or workshop to share with your attendees your contact information.
Products
Through the packaging, you have the opportunity to offer more information about the product or service such as nutritional tables for CPG, or to communicate marketing activations like contests and offer discounts for the next purchase.
Posters and Brochures
Here you can redirect the consumers to the Facebook page to give the "Like", follow us on Instagram, or any other information that you may want them to access.
Public sites
You can take advantage of public places where many people pass by to insert your QR code, such as bus stops, at the entrance of museums or theatres, libraries, etc.
Business cards
If you want to add valuable information to your business card, you can include a QR code and even share a video presentation about your company.
Let us show you a fantastic example of using QR codes to attract and engage visitors like Ding Darling Refuge in Florida: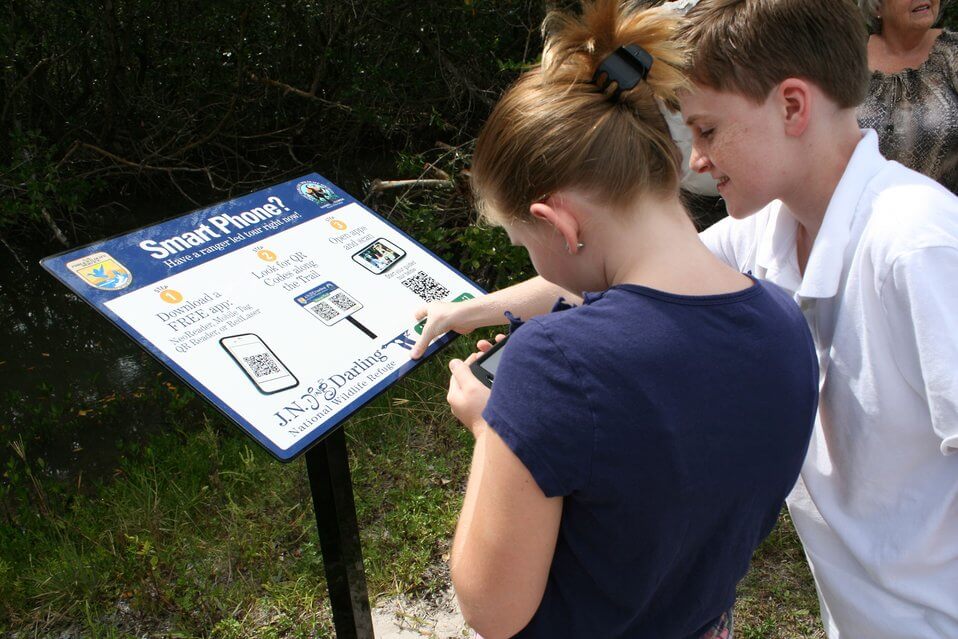 Read more great examples of QR code practices:
How to read QR codes?
The matrix of points in which the data is stored in a QR code is not readable by the human eye. It must be read with a mobile phone or with a device that has the corresponding application (a QR code reader). The reading of the code takes place in a matter of seconds. Besides, thanks to the error correction, the reading also works even if a piece is missing in the code.
The uses of QR codes
Logistics
The first QR codes were used by the Japanese automaker Toyota. They serve for the marking and registration of parts and all types of components.
Journals
Quite often QR codes appear in magazines and newspapers. When scanning, the reader accesses easily and directly certain websites without necessary undergoing any stress, for example, typing long and complex URLs. QR codes can enrich the physical world through different kinds of media and redirect to the online world. For example, an article in a magazine can have a QR code to show a video related to the topic and redirect your customers to your online magazine or website.
Marketing
While companies increase the reach and frequency of QR codes in their advertising campaigns, the familiarity of the consumer using this tool will increase. The unique features of QR codes will benefit a higher number of companies by increasing revenues and decreasing costs.
Business card
Instead of writing names, postal addresses and phone numbers, smartphone users can scan the business card (vCard) corresponding to a QR code, to add all that information to their calendar, email lists, etc.
The keys of using Dynamic QR codes
Dynamic QR codes allow you to change their content as many times as you like. On the contrary, Static QR codes encode the information after they are generated, so once you set their content, you will not be able to change it.
No reprints
One of the most significant advantages of Dynamic QR codes is that you can change the destination of the URL without changing the code.  Eliminating the costs, time and extra effort of reproducing all the promotional material with a new web address or a unique QR code.
When customers scan the QR code, they are automatically redirected to your website, your email, etc., saving the company the cost of printing and distributing new marketing materials. While the website is still active, it does not matter if the client scans the code years after its initial distribution.
Smartphones are not going anywhere
The more smartphones there are, the higher the accessibility: The growth of traditional advertising media, such as radio and the written press, is being overshadowed by the growth of advertising in digital media. Every day, more and more people are buying and using smartphones, so it is interesting to combine instant access to the Internet with the ability to scan QR codes.
QR codes can also direct customers to the company's social networks. Social media is one of the fastest growing viral marketing methods, and typically provides a significant return on a relatively small investment.
Relevant information: Companies have always been interested in tracking the preferences of customers and the response of consumers to advertising campaigns. Traditional marketing tools such as flyers, print ads, billboards and television ads can only offer estimates of their circulation figures. With QR codes, companies can generate and track customer responses to their advertising campaigns in real time because they can tag their links within the QR code with UTM parameters. This allows increasingly specific marketing campaigns.
Creating a QR code
QR codes can be created and saved as graphics file or image. They can then be placed on a business card, website, product, sent by email or via instant messaging.
In a previous post, we talked about the ultimate QR code generator for your business to help you understand how a QR code generator works and why you should use them for your business.
Creating a QR code can be effortless and fast thanks to our QR code generator that will help you create dynamic QR codes to use over and over again in your QR code campaigns. Take a look and try our QR code generator today!
To sum up
What is a QR code?
QR codes or quick response codes allow access to specific information in an agile and straightforward way.
There are infinite uses of QR codes. Here are some examples:
Events

Commercial premises

Products

Posters and Brochures

Public Sites

Business Cards
QR codes can be read by the newest smartphones and QR code readers.
Some key points of QR codes are:
No need to reprint (dynamic QR codes)

Can be read with smartphones

Track of customers responses in real time
The uQR.me QR code generator offers dynamic QR codes to create QR code campaigns to help you increase the effectiveness of your campaigns and deliver fantastic results.