QR Code Guide
Know everything about QR codes; since their invention and purpose, to the best uses for creating a successful marketing campaign. All through unique content and very productive strategies.
Find the index menu at the bottom of every screen.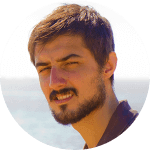 By Lucas G.
QR Ninja at uQR.me
Today, creating a QR code is a very simple task and anyone can scan it using a mobile device. But the point is to know how to use it and above all, to have a great idea (aka campaign strategy) behind the code itself.